Temple senior linebacker Tyler Matakevich was named the 2015 Bronko Nagurski Trophy winner on Monday night, a feat paralleling his team's rise to its first Top 25 ranking since 1980 and record-tying 10-victory season in which the Owls won the American Athletic Conference's East Division crown.
Matakevich, the school's all-time tackle leader, is the first major award winner for Temple (10-3), which is headed to the Marmot Boca Raton Bowl to play Toledo on Dec. 22. Matakevich beat out the other finalists: Duke safety Jeremy Cash, Clemson end Shaq Lawson, Penn State end Carl Nassib and Alabama linebacker Reggie Ragland.
The 6-1, 232-pound Matakevich, the first, first-team defensive All-American in Temple history, now has collected the title as the best defensive player in college football. Adding to the story, Temple was the only Football Bowl Subdivision school to recruit him out of Stratford, Conn.
"They (most recruiters) told me I was too small, too slow and I could not play at this level," Matakevich said. "It was everybody."

But current Temple head coach Matt Rhule, who was an assistant on the staff at the time, looked at him differently.

"He saw that I could be a hard-nosed, physical football player," Matakevich said. "All the time I always tell him thank you for bringing me here. He says, 'No, thank you.' I said, "You believed in me.' He said he saw potential."

Matakevich said he made up for his lack of size and speed with diligent film study over the years. "I can see things (on the field) before other people see them."
The current career tackle leader in the FBS, Matakevich has recorded more than 100 tackles in all four seasons at Temple. He is only the seventh player in FBS history to record more than 100 tackles in four different seasons. And he is the only player in the FBS who has led his team in tackles in every game during the 2015 season. He also has the most interceptions by any linebacker in college football this season (five) with 47 yards in returns.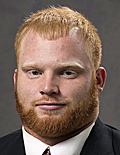 Matakevich
Matakevich, through 13 games in 2015, has 126 total tackles. He has 15 tackles for 62 yards in losses. Of those, are 4.5 sacks for minus-28 yards. In addition, he has five passes broken up and one quarterback hurry.
The award is named after the legendary Bronko Nagurski, who dominated college football at the University of Minnesota as a bruising fullback and defensive tackle from 1927-29. He could have been an All-American at any position and was the best player wherever the coaches put him.
Nagurski led Minnesota to the Big Ten title in 1927 and a three-year record of 18-4-2. He went on to lead the fabled Chicago Bears to three NFL titles. During one game at Wrigley Field, he once broke a defensive player's shoulder, knocked another out and ran into a brick wall and actually cracked it after a game-winning touchdown run.
The FWAA has named a National Defensive Player of the Year since the 1993 season. Of the five schools represented among the finalists, only Clemson has had a previous winner, Da'Quan Bowers in 2010. While Alabama and Penn State have had finalists for the award before, these are first-time Bronko Nagurski finalists for both Duke and Temple. Alabama had a finalist for a fifth straight year.